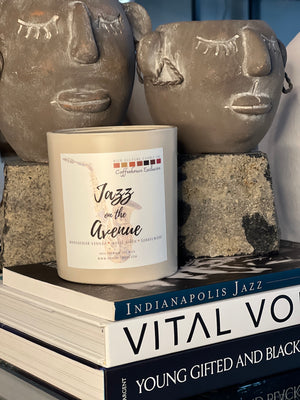 This candle was crafted to honor the musical legacy of Historic Indiana Avenue. Indiana Avenue produced some of the nation's most influential jazz artists. Noble Sissle, Reginald DuValle, Russell Smith, The Hampton Sisters and Sarah McLawler are just a few of the artists that contributed to rich jazz legacy of Indiana Avenue. 
Fresh white birch, sweet Madagascar vanilla, and warm sandalwood come together harmoniously in this cozy, soothing fragrance.
10% of the the sales of "Jazz on the Avenue" will be donated to The Avenue Foundation.

"Jazz on the Avenue" is a The Avenue Coffeehouse & Cafe exclusive. The Avenue Coffeehouse & Cafe is a subsidiary of The Avenue Foundation based in Indianapolis, IN. The mission of the Foundation is to build racial and economic equity, and empower the Black community in Central Indiana to create generational wealth through entrepreneurship.